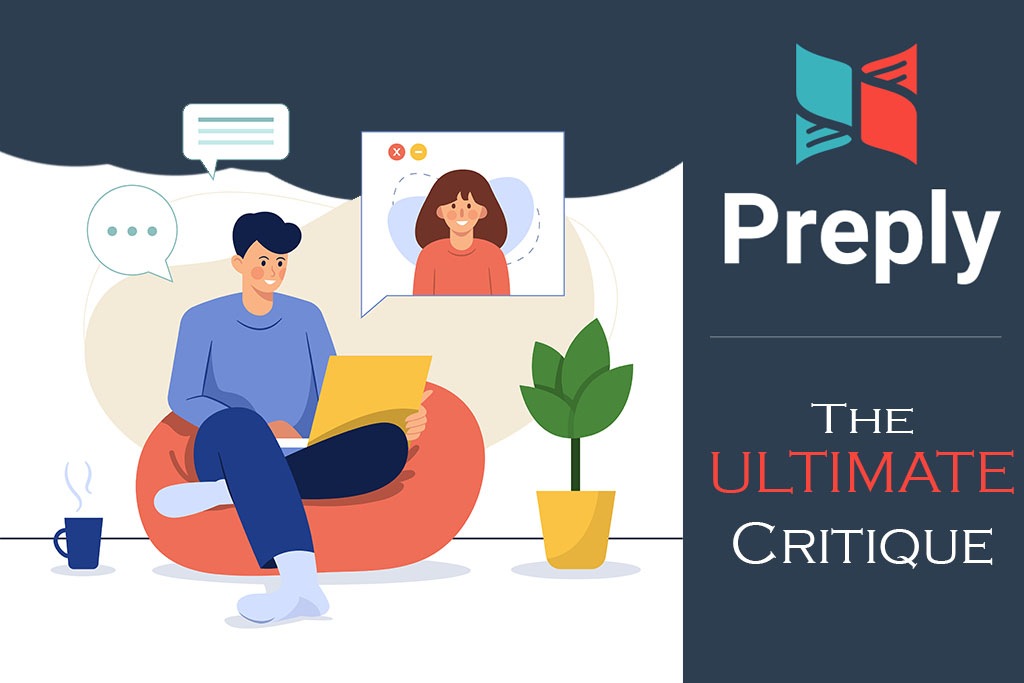 I have dedicated this Preply review to being as fully in-depth and as honest as possible in order to show you the true advantages and disadvantages of the platform.
I've always found that when I'm studying any language by myself, my studies inadvertently become dominated by input learning methods. I sit down at my desk and study from textbooks, review flashcards, and watch subtitle-less shows in my Target Language. It's easy to sit down and watch a ton of anime every day. But, that is a lot of consumption.
But when it comes to output, actually speaking the language and using it in real-life situations is something that can truly make your language ability skyrocket. It's easy to sit down and study from books, but it's much harder to put yourself in a situation where speaking your TL becomes mandatory.
Of course, this is much simpler to accomplish when studying abroad, which is what I usually recommend… However, jumping on a plane and going to your TL's country to achieve complete immersion isn't that easy sometimes.
Instead, It's often much easier to simply connect with an online private tutor. You can immerse yourself in the culture of your Target Language and practice from the comfort of your own home. It gets even better when you feel comfortable with your tutor before you have even had a lesson with them.
This Preply review will explore every element and get you up to date on Preply if you've never used it before. For those who are more familiar with it, perhaps I'll be able to shed some light on the more hidden features that Preply has to offer. Of course, I'll also be providing my own personal experience and honest thoughts on the platform.
Please note that this post features several affiliate links, meaning I'll earn a small commission at no extra cost to you if you purchase through these links. For more information please visit the Disclaimer page.
What is Preply?
Preply is an online educational platform that connects language learners with tutors together across the globe for online 1-on-1 lessons.
Originally launched in 2012 as an online marketplace for SAT and ACT tutoring, Preply expanded its business globally transforming its marketplace into an online language tutoring platform in 2013. As of 2021, Preply has expanded its roster of tutors to 49,000 and available subjects (including languages) to 100.
There are a considerable number of tutors on Preply, and that number is growing rapidly. With such a large pool of tutors, finding a suitable one for any subject/language you would ever want to practice is a breeze. I was able to find a tutor I liked within minutes thanks to Preply's convenient and simple Search system.
Preply doesn't actually do any teaching at all. It merely acts as a facilitator that allows you access to its huge database of online tutors. You can browse each tutor's profile, watch their introduction videos, as well as filter them by price, rating, speciality, availability etc.
As a facilitator, Preply acts as the middle ground between you and the tutor to ensure that everything is going smoothly. The student pays the tutor, and the tutor delivers the lesson. Lessons then take place on Preply's Space platform. If the tutor doesn't deliver or if they deliver the lesson to a less than satisfactory level, students are entitled to a full refund.
Because of this, tutors on Preply are dependent on receiving positive reviews from students, so naturally, this means delivering solid, high-quality lessons is vital for them. This is similar to other platforms such as Italki.
How does Preply work? Finding a Tutor
Upon loading up Preply's website you can immediately type in the language (or subject) you want to learn and it'll instantly show you all of the available tutors. It's free, and no account is needed.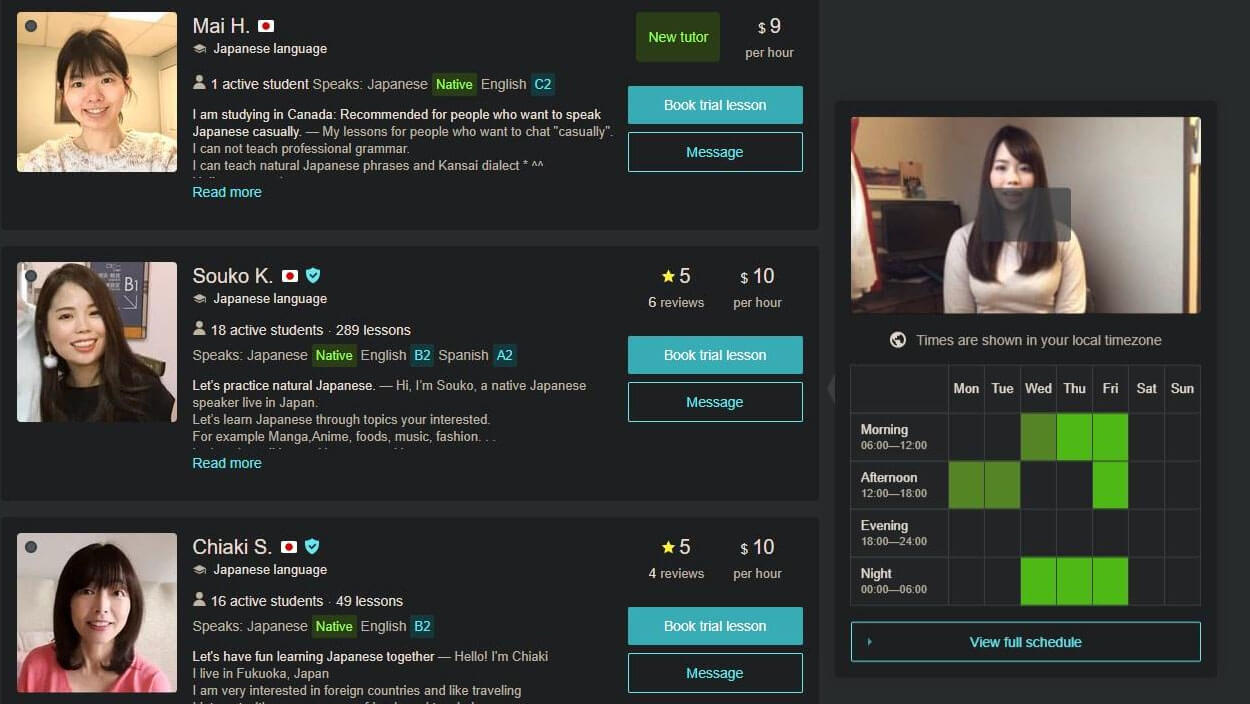 Straight away, you can see what each tutor looks like, their native language, other languages they speak (and to what level), current active students, their ratings, reviews, prices, schedule and more.
Having immediate access to all of this nicely presented information is great to have when you're looking for a tutor who looks right for you. Now, you can browse the giant list of tutors at your leisure. 
Each tutor also has a short bio where you can learn more about them, their speciality, qualifications and experience. I really like this, as I felt way more comfortable in making a decision after getting a feel for who they are, and how they like to teach.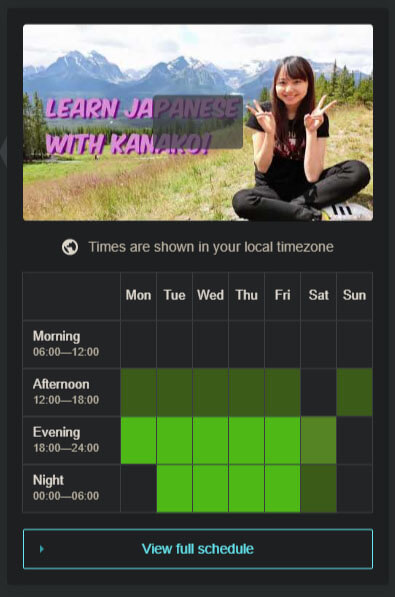 Another convenient feature is that the booking schedule is automatically adjusted to the time zone you're in. No need to do the time conversions!
Deciding on a Preply Tutor
When you've found a tutor you're interested in, you can view their own personal profile in more detail. Each tutor has an introduction video which I highly recommend watching. You can really get a feel for what kind of person they are, and how they might work for you.
Just the thought of jumping into an online lesson felt a little nerve-racking at first. However, from watching the videos, I could envision myself in a virtual classroom with the tutor and understand what it might feel like.
Eventually, I found a tutor who had such a warm, welcoming atmosphere, my worries were dispersed just from watching their introduction video.  Although I felt apprehensive at the beginning, once I found a tutor with who I felt a connection, I was excited to start talking to them.
On top of the atmosphere and teaching style, you can learn so much more from watching tutors' videos. As there is a lot of variety on Preply, watching the video enables you to see what kind of equipment the tutor is working with, as well as to check out their audio and video quality.
All of these are important elements that will contribute to the overall lesson quality. When looking for tutors on Preply, I can't stress it enough, watch their introduction video before booking!
Reading the Preply Reviews!
In addition to the video, you can also read reviews from other students. Reading about others' experiences and their opinions on the tutors had a powerful influence on my decision-making. It's such a great feeling when you've found a tutor you really like the look of, reading their overwhelmingly positive reviews just fuels the excitement.
It's all down to personal preference, of course, but I would probably steer clear of those with reviews that are not so hot.
On their website, the Preply team say that they verify each and every tutor's profile, but what this means is that they cross-check any qualifications the tutor has listed they have. As for the tutors' ability to teach, that's down to the students to decide. As tutors can set their own rates, definitely do all the research before you decide to commit to one – watch their video, read reviews etc.
Finding the Perfect Preply Tutor
You can narrow down the search results to find a tutor who is suitable for your needs by selecting a preferred lesson time, specifying your price range, desired tutor speciality, tutor native language, and you can even apply a filter for tutors' Country of Birth.
This flexibility is particularly useful if you're looking for native speakers only or a tutor with a specific skill. I really recommend playing with the filters to find your perfect tutor. You really can arrange a lesson for any time, anywhere. Fancy a lesson at 3 AM? Not a problem!
After selecting your preferred preferences, Preply will load up its database of tutors and present a huge list of tutors that fit your criteria.
After browsing their profiles, and once you have found someone you like, you can also send personal messages to the tutor and have a chat first through Preply's internal messaging system. When you're ready, you can book a lesson.
Booking a Lesson with a Tutor
Booking a lesson with a tutor is very easy!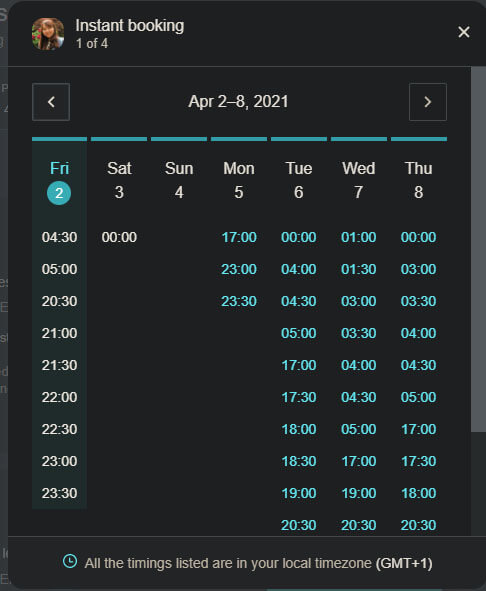 Here, I am booking a lesson with a Japanese tutor. The first lesson with any new tutor is always a trial one. The trial lesson is a single 60-minute long lesson that is 100% refundable (or transferrable, it's your choice) with no questions asked if you're even the slightest bit unsatisfied.
Simply select the time and date that is most convenient for you.
Next, you'll be prompted to fill out a short preliminary questionnaire. It will ask you about your motivations for studying language, and what your goals are. These are supposed to help the tutor plan for your lesson, but the options are quite limited as you can see.
My tutor actually messaged me within 15 minutes of completing my booking which was a pleasant surprise. They asked me in more detail about my requests, current language proficiency and my goals. I love this kind of interaction as I really feel that my tutor wants to support me and provide me with the best lesson possible.
After you've purchased your lesson(s) you can view them and any other upcoming lessons you have on the My Lessons tab at any time.
Should you ever need to cancel a lesson for whatever reason, you can do so up to 4 hours before the lesson is due to begin – free of cost. It is important to note that, after there are less than 4 hours remaining until your purchased lesson begins, you won't be entitled to a refund. You can still cancel your lesson though, however, you'll have to pay for the lesson as if you've had it.
What Does A Preply Lesson Look Like?
Preply has developed its own online video-chat platform called Preply Space. For those who still prefer third-party applications such as Skype, you can still use them if you wish.
Preply Space is where the lesson actually takes place. You can access it by logging in and clicking My Lessons. Here's what it looks like!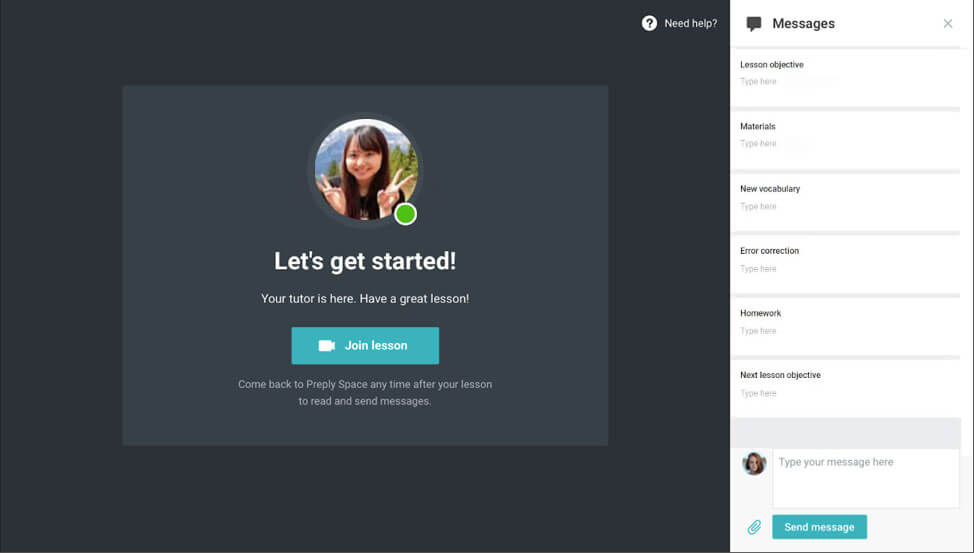 The lessons typically last one hour, but you can extend them by discussing the duration with your tutor. As Preply Space is inbuilt directly into the platform, calling your tutor is easy. No more messing around searching for Skype IDs and hoping you've got the right one anymore. Preply Space is smooth and seamless, it's a powerful feature that really enhances the lesson experience.
Whenever I'm preparing for any kind of online meeting, lesson or interview, I always faff about quadruple checking that my microphone and webcam are all working. Calling skype Test Call 5 times beforehand was a nightmare. Thankfully, Preply Space has a feature where you can preview your video before the lesson begins.
There are spaces for the tutor and student to input things like Lesson objectives, Materials, New Vocabulary, Error Corrections, Homework, and Next Lesson Objectives. I loved this as it really makes the lessons feel professional, and you can always come back later after the lesson has finished to review it.
Tutors can also share their screens with you, essentially turning Preply Space into a digital whiteboard for the classroom. This was great as it made it easy to follow along.
I had discussed with my tutor beforehand my lesson needs, and they had tailored it to meet them. Some tutors also list in their bios that they have specific popular textbooks. As we both had the same textbook it made the flow of the lesson feel smooth.
After the Lesson
After your trial lesson has finished, you'll be prompted to confirm the lesson has been completed. You'll then be able to submit any feedback, or issues, and rate the whole experience. This allows you to submit your own short Preply review.
You can then book more lessons with the tutor if you wish.
You may notice that there is no option to purchase a single lesson. There are instead, batches of 6, 12, or 20 lessons to select from (there is more discount the more lessons you buy). On Preply, and other similar platforms like Italki, this is becoming the norm.
Personally, I'd prefer more flexibility with my purchase, perhaps a batch or 2, or 3 lessons. This is my biggest negative of this Preply review.
On the other hand, the benefit of purchasing batches of lessons is that you'll be able to develop a better connection with your tutor, and they'll get to understand your strengths and weaknesses as you continue. Thus, they'll be able to tailor lessons to better meet your needs. Even so, I would have still liked an option to purchase batches of lessons in any number.
My Biggest Advice
My advice on taking online classes-and what you'll see me emphasise throughout this Preply review is the importance of reading the tutors' bio, their reviews, and watching their videos. Then take a trial lesson. Then you'll know for sure if a tutor is really right for you. After your trial lesson, you can get a full refund if you're unsatisfied, which is nice.
I really enjoy taking lessons on Preply, all of the tutors I have had up to thus far have been great. I can tell how much they enjoy our lessons, and it makes me enjoy them more too.
You can review your lesson after it has finished at any time. Tutors can also add a homework assignment if that is something you'd like to do.
Preply Pricing
The pricing of each tutor on Preply varies drastically from as little as $5 to $40 an hour. The tutor themselves can set their own price, but you'll find that rates usually depend on the tutor's individual experience, qualifications and ratings. I found that the average price range that tutors have set is around $10-$15 per hour.
In my experience, just because a tutor's pricing is low, does not mean that they are a low-quality teacher. The same applies when a tutor's pricing is high.
As tutors have complete freedom in setting their own prices, judging them on price isn't really a reliable way to gauge a tutor's ability. Instead, you'll want to set your budget using the slider and use filters to display tutors that are in your price range. From there you can research each tutor, read their bio, read their reviews that other students have written, and most importantly watch their introduction video!
Then, use the trial lesson to your advantage to see if the tutor is really a good fit for you or not. You're entitled to a full refund if the lesson and/or tutor did not live up to your expectations.
One thing I really like is that pricing can be viewed and payments can be made in a wide variety of currencies. This takes away the pain of doing currency conversions to work out the cost of each tutor manually. They don't have all of the currencies, but having freedom in which currency you want to pay in is quite nice.
Preply and its Features
It is often said that Preply is quite limited on the features side compared to its competitors such as Italki. Preply excels at doing what it's supposed to, matching students with teachers.
They ensure scheduling and payments are going smoothly and that students are satisfied with their lessons. Then provide a space for students and tutors to conduct online lessons. I feel like there are a bunch of Preply features often overlooked.
However, if you're too busy, or not sure how to find a suitable tutor, you can submit a request for a private tutor through the main website. Preply will then do the research for you and match you with a tutor who fits your requirements and requests. You can even submit a request for someone else, such as your friend, or child.
Personally, I haven't used it myself, but you can enter all of the aspects that you want in a personal tutor. You can enter your price range and any specific requirements you have etc. On paper, this looks like a fantastic feature that saves you time and hassle.
As you're simply submitting a request, whether or not you decide to go with Preply's suggested tutor is up to you. I would still check out their reviews and watch their video before committing to anything!
The Preply Scholarship Program
One thing I'm surprised that not many people have mentioned is Preply's Scholarship Program.
Granted, it's not written in big flashy text, so it's very easy to miss on the website (it's at the bottom!). If you know me, you'll already understand how I feel about Preply having a scholarship program.
This part is my personal highlight of this Preply review.
Rewarding students for their hard work, motivation and dedication to language in the form of free money (in particular to study abroad) is such a wonderful incentive. With many students wanting to go abroad or pursue studies, it's a shame they are unable to fulfil their dreams simply because of a lack of funds.
Anyway, back on topic… Preply's Scholarship Program! What is it and who is it for (And how much can you get)?
Preply's Scholarship Program operates as a competition where applicants compose and submit a 500-word essay on a specific academic topic. The competition is community-driven, where three of the submitted essays are chosen by community popular vote. Preply then distributes $4,500 among the three winners.
According to Preply's website, an eligible applicant must fall into one of the following categories:
High School student
University student
PhD student
You also have to be between 16-35 years old. You can be from anywhere around the world to enter this scholarship program, there are no restrictions there! (which is awesome!)
In the most recent Scholarship competition, the Essay topic was "How language learning helps foster gender equality". Although essays have to be submitted in English, I really like what Preply is trying to achieve here. The essay topic encourages critical thinking.
Like Preply, we are also developing our own Scholarship program here on The Language Quest.
Preply Q/A Section
The Q/A section on Preply's website is essentially Preply's answer to an online community where students can ask questions about anything and get answers from tutors. It doesn't cost anything to ask a question, all you need to do is have an account.
Although not as bustling as Italki's community, Preply's Q/A section does provide its students with a place where they can connect with tutors outside of lessons. I have not personally used the Q/A section yet, but it looks active and very much alive for most subjects.
You can post a question about any topic or language. It could be a grammar point you don't understand, or perhaps you can't work out the difference between two words. Whatever your question may be, once you post it a qualified tutor will post an answer for you.
The great thing about this feature is that anyone can search and view all past questions and answers. So perhaps you have the same question about a specific grammar point for instance… You may find someone else has already asked (and answered) it for you. The responses some of the tutors have written are usually very clear and in-depth enough to be useful.
Preply's Q/A section is a fantastic step in the right direction in terms of establishing a community. Personally, I think it would be even better if there were a feature that would allow students to directly connect with each other. Something like Italki's "language partner" feature, which enables native speakers to connect and learn from each other.
Preply Discount Codes
One of the discounts that Preply offers is a discount for first-time users. Students who are using Preply for the first time can get a discount on their first lesson with a tutor. This discount is usually in the form of a percentage off the total cost of the lesson or a fixed amount off the total cost. The discount varies depending on the tutor and the language being taught, but it typically ranges from 15% to 50%.
Another discount that Preply offers is a bulk purchase discount. Students who purchase a package of lessons in advance can receive a discount on the total cost of the lessons. The discount varies depending on the number of lessons purchased, but it can be as high as 30% off the total cost.
Preply also offers periodic discounts and promotions throughout the year. These discounts can range from a percentage off the total cost of a lesson to a fixed amount off the total cost. Students can stay updated with Preply's discounts and promotions by subscribing to the platform's newsletter or following them on social media.
Preply also has a discount link that can be found on their website.
They advertise it as a 15% discount for 1-on-1 language lessons. It involves inputting your email address which enables you to receive 15% off your first monthly payment for a subscription.
The discount is applied automatically, so be sure to take advantage of the discount after you've found a tutor you like!
In addition to these discounts, Preply offers a referral program that rewards students for referring new users to the platform. When a student refers a new user to Preply, both the student and the new user receive a discount on their next lesson.
Preply's Test Your English Test
Preply offers a useful tool called "Test your English level online" which is designed to help students determine their current level of proficiency in the English language. This online test is a convenient and efficient way for students to assess their language skills before they begin working with a tutor.
The "Test your English level online" is available on Preply's website and can be accessed by anyone who wants to take the test. The test is free and takes approximately 20 minutes to complete.
The test assesses the student's proficiency in four areas: reading, writing, listening, and speaking. The questions in the test are designed to be challenging and cover a wide range of topics related to the English language.
Once the student has completed the test, they will receive a detailed report that shows their level of proficiency in each of the four areas. The report will also provide suggestions for areas of improvement and a recommendation for the level of tutor the student should work with on the Preply platform.
The "Test your English level online" is an excellent tool for students who are looking to improve their English language skills. By taking the test, students can identify their strengths and weaknesses, and this information can be used to guide their language learning journey.
It also helps students to choose the appropriate tutor to work with on the Preply platform, ensuring that they get the most out of their language learning experience.
It's a helpful resource for anyone who wants to assess their current level of proficiency in the English language. The test is easy to access and free, and the detailed report provided after the test can be used to guide students towards their language learning goals.
Preply Review: Customer Service 
Customer service on Preply is only provided through a chat service and an email system. At the time of writing, it is not possible to contact Preply through phone or video call.
Located at the bottom right side of your screen is a light blue circle. Click on that and the chat feature will pop up. There you can directly send Preply if you have any problems or questions. I've contacted them once, and they responded within less than an hour, despite the estimated wait time being 2 days. Preply's chat feature is not 24/7 though, and you'll have to check their opening times (it's dependent on where you're from).
Preply has quite an extensive FAQ list, which honestly covers almost everything you'd ever want to know.
They also have shared some advice on using the platform, advice on tutoring, as well as learning materials for students and tips on how to find a good tutor. On top of this, they have a language-specific FAQ which might be useful especially if you're new to the language. It works great as an introduction to the language (and its country) that you want to study.
Becoming a Tutor on Preply
To become a tutor on Preply, you need to be able to check off these things:
Be a native speaker or fluent in the language you want to teach.
A stable, speedy internet connection.
Access to Skype.
Own a Webcam.
Own a Microphone.
A form of ID (Passport/Drivers License).
These are the requirements to become a tutor on Preply.
If you can complete this list above you're set and are ready to apply to be a tutor on Preply. A language tutor at least. Say you were thinking about teaching other subjects, like mathematics or History. In this case, Preply asks for any prior knowledge and any qualifications or professional experience you have on the subject you wish to teach.
Preply Requirements
If you want to be a language teacher, you do not need any experience or qualifications. You do not need TEFL. You only need to be able to complete the list above. Then, you can go to the website, create your profile, and apply.
With that said, if you do have any relevant experience or qualifications, definitely mention them in your application and in your bio. Obtaining a certified TEFL qualification will really make you stand out from the rest of the teachers.
For that reason, if you are really serious about teaching (or getting into it) and want to optimise your chances of acquiring students, picking up a qualification such as TEFL would definitely be something to consider.
Once you've applied, a member of the Preply team will review your application. You will be notified by email if you're successful. Then you can add further details, such as your availability and introduction video.
Students will then be able to send you messages and book your lessons.
At Preply, you have complete flexibility in choosing when you want to work. You also have freedom in how you teach your lessons. Although I recommend contacting the students who book your lessons directly to get to know what their goals are.
Getting students will require you to make your profile stand out. A good bio, a friendly and professional introduction video, and listing extra qualifications/experiences are all essential here.
Preply has a video that lays out the application guidelines in detail.
Lesson Planning
From this point onwards, Lesson planning and everything is up to you. I've had tutors who had a textbook that we could work on together in lessons before. We've also conducted role-plays, and had conversations about various topics.
If you're not too sure about the best way to teach your lessons, my best advice would be to ask your students first. Ask them what it is they want to learn using Preply's direct messaging service before the lesson. If you do own any copies or PDFs of textbooks, communicate that to your students before your lesson too. Communication between student and tutor is so important, for a number of reasons.
It's still a good idea to develop some sort of lesson plan though. Your students will be relying on you to guide them in a comfortable atmosphere and deliver high-quality lessons.
Preply Training
Luckily, Preply actually offers optional free training courses and tips for tutors. They have an extensive collection of insightful articles that provide useful advice on how to be a very good tutor. I highly recommend reading through the collections.
Free training with Preply comes in the form of webinars that you can register for. They will teach you how to engage students, retain them and create solid lesson plans. I haven't taught with Preply myself, but all of these resources look fantastic and are an excellent way to help you get started.
At the time of writing this Preply Review, they have launched the beta of what they're calling the Preply Lesson Plan. The Lesson Plan contains x7 60 minute beginner-advanced lesson plans that are designed for achieving fluency. To support tutors in delivering an effective and engaging learning experience the lesson plans include a placement test, learning plans and lesson summaries.
As this is still in beta, it seems it's currently only available for English tutors. However, Preply aims to expand this feature into a library of resources for all tutors to use.
Preply Salary: How Much Does Preply Pay?
Tutors on Preply are free to decide their own hourly rate. There is complete freedom in this. Although rates can be anywhere from $5 to 40$ an hour, tutors with more experience and qualifications will be able to set their rates higher compared to those without. This of course means, that the more teaching experience and qualifications you have, the better.
There are no hidden fees or anything on Preply. However, they do take a percentage of the rate you set.
Preply uses a tier system to determine what the percentage of commission will be. How much commission you pay depends on the number of hours you've taught. If you're a brand new tutor, 33% of your earnings will go to Preply. This number gradually diminishes as you accumulate more teaching hours. When you hit the 400-hour mile-stone this number is almost halved to 18%.
It is important to note that for the first lesson you have with a new student, Preply will take a 100% commission. This means that you do not get paid for the first lesson you deliver for a new student. After the trial lesson, the student will be prompted to purchase lessons with you in bulk, and they will receive discounts the more they purchase.
Building a relationship with your students is important and takes time, and it's up to you to deliver the learning experience you can to your students.
Unlike some services that have a specific payday, Preply tutors can withdraw the money they make at any time.
Pros of Preply for Students
The best thing about Preply is hands down how easy it is to get started and use the platform. You can make an account in seconds and immediately have access to a massive list of tutors. You can add filters such as price range, schedule, native speaker, specialities, and more to narrow down the list.
Browsing tutors is also a very smooth process. You can get a feel for what kind of person each tutor is straight away by viewing their introduction video, reading their bio, and reviews.
The quality of the tutors themselves is also something to highlight. Every language tutor I have had on Preply has made me feel comfortable and delivered lessons in a very friendly manner. It felt as if I were talking with a friend at times, talking in my target language became second nature, and I became so immersed in the topics we were discussing.
I've yet to have a bad experience with a tutor. I was so hesitant to book a tutor for the first time, as I felt nervous. However, after I booked my trial lesson with a new tutor, they sent me a message to say hello, as well as to give me the opportunity to discuss any questions I had. My nerves had dispersed and I was excited.
It is also very easy to get into as a complete beginner in a language too. By using the filter function you can find tutors who can also speak your native language.  Especially as a beginner, this may give you peace of mind knowing that you can talk to the tutor in your native language, should you get stuck.
Preply's Scholarship program – where they give students free money.
Pros of Preply for Tutors
Preply is a very easy platform to get into for tutors. No prior experience or qualifications are required, making it extremely accessible. The application process is very straightforward.
All tutors have immense freedom in regards to what they can teach and how much they want to charge for it. As tutors gain more experience and qualifications they can increase their rates.
Preply offers optional free training in the form of Webinars for those who want it. This is in combination with its expansive collection of tips and advice articles on how to teach effectively.
Cons of Preply for Students
The number one con of Preply for me is that there is no option to purchase single lessons after the trial lesson. Instead, the only choice you have is to purchase lessons in bulks of 6, 12 or 20.
I really recommend that before you purchase a batch of lessons with a tutor, you really make sure they're right for you. By that, I mean – watch their video, read their profile, check their reviews, message them and trial with them. I haven't had it happen to me, but you don't want to purchase a batch of 6, 12 or even 20 lessons with a tutor, only to realise they're not what you were looking for.
Preply does, however, guarantee that if you're unsatisfied with your tutor's lesson for any reason, you can request a replacement lesson with a different tutor or a full refund. The change to a different tutor's lesson option can be requested up to two times, both of which Preply will fully pay for. On the other hand, requesting a refund can only be submitted once.
With that said, there is some benefit to having a batch of lessons booked with the same tutor. By having multiple lessons with the same good tutor, you will find that your lessons will feel more immersive and you'll develop a stronger connection with your tutor. As you have more lessons together, your tutor will be able to plan lessons in advance, and get to know your learning style, strengths and weaknesses.
This means that they'll be able to adapt their own teaching style and tailor lessons specifically to what you need, ultimately providing you with a fulfilling and fun learning experience.
Cons of Preply for Tutors
This brings me to my next con for Preply – that the tutors don't get paid for trial lessons. For every trial lesson a tutor conducts with a new student, Preply receives 100% of the commission. Taking the full commission is something I really don't think is fair on the tutors, they're essentially working for free for every trial lesson. The tutors only get paid if a student decides to purchase more lessons with them after the trial. 
Preply's reasoning on this is that they use the revenue to develop their platform. I'm not sure how I'd feel with that reasoning if I were a tutor, but I've heard from some tutors who say they're fine with it. 
Commission for new Preply tutors is also rather high at 33% as discussed in the "How much Preply pays its tutors" section.
Alternatives – Preply vs Italki
We can't have a Preply review without mentioning Italki. Italki is one of Preply's competitors. It is a very popular educational platform that like Preply, matches students with tutors for 1-on-1 private lessons. Both offer pretty much the same thing, but there are a few important distinctions. I'm going to list them here, as plain as possible.
Preply vs Italki – Lessons
Lessons are inexpensive on both Italki and Preply, and you have to purchase these lessons in bulk on both platforms. There is no option for a single lesson purchase, except for the trial.
On Preply, you can learn (and teach) languages and other Academic subjects like Mathematics, Science etc. Italki is strictly a language platform, but you can instead search for more niche things. Want a tutor that can teach you a specific dialect or sign language? You can do that on Italki!
Thankfully, I have personally found tutors on both platforms to be of high quality. No problems there!
Preply vs Italki – Community & Features
Both Italki and Preply have a community, however, Italki's is way more developed than Preply's. Italki has done a fantastic job of building its community as you can directly connect with other language learners through the Exercise section. You can find native speakers of your target language who want to study your native language – a language partner! It's free too.
Speaking of Italki's Exercise section, there, you can post any passage you have written in your target language, and someone will correct it for you. This is a very cool feature!
On the other hand, Preply has its own scholarship system, giving out free money to the community. Anyone can submit a 500-word essay on a topic and the community votes for their favourite. The winner receives a huge sum of cash. Also a very cool feature!
Preply vs Italki – Teaching
You can view a tutor's qualifications and experience on both of these platforms. However, Italki makes the distinction between tutors clearer, as there are two categories of tutors. There are professional tutors who hold relevant teaching qualifications, and those who are new to the platform called community tutors.
For those of you who are looking to teach on either Preply or Italki, you'll be happy to know that Italki doesn't take a commission on trial classes. However, it is much harder to apply and get accepted. Italki also takes a smaller commission than Preply at a static 15%.
You can take a look at Italki here.
Is Preply Legit? – Preply Review Summary
Overall, what do I think of Preply? Is Preply legit?
I think it is a really solid platform that's very accessible to both tutors and teachers alike. Preply provides the perfect platform for tutors and students to connect for online language lessons. As a student, searching for and finding tutors that you like is a breeze.
The messaging system, as well as Preply Space, is intuitive and works very well to facilitate a comfortable online learning experience for students.
If you want to find a suitable tutor for 1-1 lessons at your price range, I'm positive that Preply will fulfil your needs. Give it a go for yourself, find a teacher you like and book a trial lesson! It's easy and completely refundable.
You can also submit a request to Preply asking them to find a suitable tutor for you on your behalf.
Preply's community is not completely nonexistent as others have said. The community outside of lessons is there but not as grand as some of Preply's competitors.
However, there are some other features that bring the community together that are not really mentioned anywhere. Preply has its own scholarship system where applicants submit a short essay on an academic topic. The community votes for their favourite and Preply distributes a considerably large sum of money between the winners.
If Preply did not charge tutors 100% commission on trial lessons and implemented a way for students to connect with the community more directly, I've no doubt Preply would be even more popular.
I hope my Preply review was useful and helped you make a decision if you were considering either teaching or learning there. If you have any questions, post a comment below! Or, you can directly email me at:
I'll do my absolute best to help you.